Hacktoberfest is a month-long contest beginning October 1, run by DigitalOcean, DEV, and Intel. Whether you're new to development or a long-time contributor, anyone can participate and help grow the open source community.
The challenge: submit 4 pull requests to an open source project in the month of October and win limited-edition swag.
+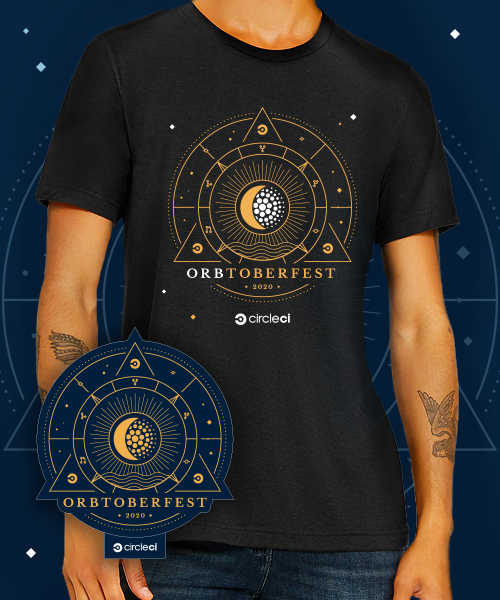 What you win
Participants who meet the challenge will win a limited edition Hacktoberfest T-shirt from DigitalOcean, or the option to plant a tree instead, in an effort to help offset carbon emissions.
CircleCI's bonus challenge
Participate in CircleCI's #Orbtoberfest for a chance to win more swag!
1-3 PRs receive a sticker pack
4 PRs receive stickers and a T-shirt
Once you've completed your PRs, submit the links using this form.
How to participate in Orbtoberfest on CircleCI
Contributing to CircleCI orbs is an easy way to complete the Hacktoberfest challenge.
Choose one of the challenges below to participate. Once you've successfully submitted your pull requests, fill out this form to receive your swag.
Challenge 1
Complete a merged or accepted PR, tagged with "Orbtoberfest", to include orb usage on an existing CircleCI config.
Prizes:
1-3 PRs receive a sticker pack
4 PRs receive stickers and a T-shirt
Challenge 2
Develop and publish an orb using the Orb Development Kit. Make sure your orb solves a challenge that other developers might be facing!
Prizes:
Sticker pack
T-shirt
Limited edition orb magic pin
Join the #orbtoberfest discussion on our community forum for ideas, FAQs, and to ask any questions.
September 24
Hacktoberfest 2020 Pre-Game Show
03:00PM EST
Last year, Hacktoberfest and Orbtoberfest drew developers from around the world
Global Hacktoberfest
483K pull requests opened
154K participating repositories
142 countries joined
CircleCI Orbtoberfest
144 orbtoberfest issues
112 valid submissions
30+ new orbs created
Get Started With CircleCI